April 29, 2021 | Amy Rambo
How COVID-19 turned student travel on its head – and created more opportunity
A lot of pieces have to fall into place before a successful student trip gets underway. There are proposal and approval processes, fundraising, scheduling around academic testing, and then the arduous task of arranging transportation, lodging and meal plans – all before a single kid packs a suitcase.
It wasn't easy before, but the events of 2020 changed everything.
The pandemic's immediate effects
2019 had been a record year for student travel, with more outbound international trips and more students from countries like China making the United States even more popular as a destination. That all fell apart when COVID-19 appeared on the horizon.
Travel industry veteran Carylann Assante had a front-row seat to the unfolding crisis.
"As the destinations were starting to shut down, you were starting to see this rash of cancellations," said Assante, chief executive officer of Student & Youth Travel Association (SYTA), a 25-year-old members-based trade group that works globally with companies and institutions in the growing sector of middle and high school travel.
"Basically, from March all the way to June – the height of the season – we were just seeing cancellation after cancellation. It really put the travel community in a precarious situation."
SYTA is a leading facilitator for student trips based around both academics and performances for students 12 and up in band, dance and other nonsports extracurricular groups. The association moves 3 million students in a typical year, but it might be a while before another typical year rolls around again.
Student travel's current status
Although the world is starting to slowly reopen as vaccination rates rise, it's not enough for most student travel. Even in destinations that are open, such as national parks, group sizes are limited, taking the traditional model of dozens of students in motor coaches out of the equation. As a result, trips that were postponed until 2021 are being pushed back yet again.
"Exactly a year later, we are still postponing, refunding and canceling trips," Assante said – though she's excited about the reopening of Broadway in New York City, and places like Texas and Florida are providing opportunities.
And though more outdoor-focused, densely populated destinations such as Branson, Missouri, or Asheville, North Carolina, are being utilized, schools want to eventually return to their traditional, big-city options as well.
A silver lining for the future
One advantage to the bottom falling out in 2020: School districts recognizing the value of the travel experience as students realize what they're missing. One band director in Biloxi, Mississippi, is seeing the heartbreak firsthand.
"Our wind ensemble was scheduled to perform at a national conference, and the trip was canceled over COVID-19 concerns. Additionally, any travel to away football games and marching band competitions was also canceled," said Travis Coakley, who has led both domestic and international performance trips in the past.
"We are about to complete an entire school year, and the band students have not left our campus, and its toll is being felt. I hear the students lamenting that they miss the trips, the bus rides, and the camaraderie that comes with student travel."
Eye-opening trips expand young horizons so dramatically and make such an impression that college admissions officers report student travel as a No. 1 topic among applicant essays. Because it gives their graduates such an edge, administrators are starting to take more interest and pre-approve travel for 2022 and beyond.
The industry's next stops
As a result of all the planning she's observing among educators and recent SYTA research, Assante hopes to see the industry bounce back to 66% of pre-pandemic activity next year, then as high as 92% in 2023. She anticipates pent-up demand being realized, even as fuel prices, taxes and an interest in more sustainable travel shape future potential.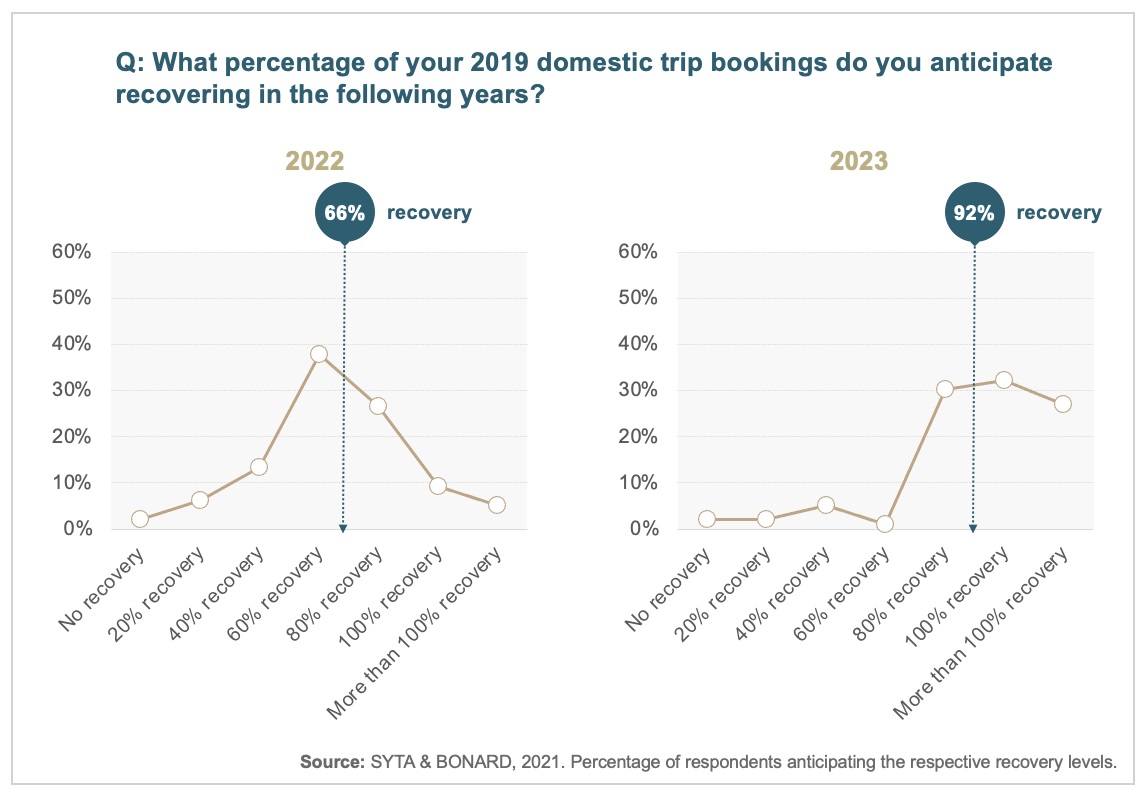 For companies hoping to be a part of student travel's future expansion, it's more important than ever to find those teachers with big plans. They could be harder to pin down than ever as a result of turnover, record retirement levels and changing media consumption habits.
"Younger teachers like to be reached differently," Assante said. "If your average teacher is 30 to 40 right now, they're different from 50- to 60-year-old teachers, so how do you reach them?"
It takes about 18 months to plan a student expedition, and ideas and decisions are being developed today. Reach out to MCH, and we'll help you brainstorm ways to get on the map for educators and administrators, using market insight and our first-in-class education data.