April 9, 2020 | Lynn Schear
COVID-19 Impact: School plans, insights and next steps
Over the last several weeks, the MCH Research Team and I have been closely monitoring and researching the COVID-19 response and planning for both building closure and instructional plans at the state, district and school level across the U.S.
From big urban districts in California to small rural communities in Nevada to the suburbs of New York City, following a period of intense reaction and response most districts are up and running with some type of distance learning program. Most states, like Oregon, are working hard to meet department of education requirements to re-establish learning and student/teacher engagement.
To help our customers as well as others in the public, we've created an interactive status map to help track those plans, as well as plans for reopening buildings later this academic year or in the fall. Although many of those decisions have not been made yet, we will keep updating this data as decisions and plans emerge.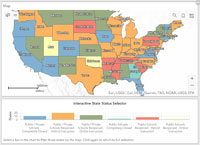 Questions, Questions
Many big questions are still looming unanswered: Will any schools reopen before traditional summer break? How will student progress be assessed this school year to advance kids to the next grade? How can we address the equity issues of technology for the future? What can we do to be better prepared for the future? We are working to better understand these issues and will share what we can compile.
Following are just a few highlights of what I've learned so far:
Dozens of districts have purchased hot spots and Chromebooks for students to provide access to online curriculum. Google announced on Wednesday, April 1, it will donate 4,000 Chromebooks and Wi-Fi devices for 100,000 households in rural California. It will be interesting to see if districts incorporate some type of online learning program into their regular curriculum to ease the learning transition to online learning should an event like this happen again.


The picture on school reopenings this year changes every time I sit down to write. Many schools/districts are still holding out hope that they will be able to get back to school, even if only for a few weeks, but that picture is looking increasingly less likely as President Trump has issued a stay-at-home order through April 30. Some are still using the end of their spring break as a "reevaluation period" but are likely to extend their projected return date to May 4 or beyond as the coronavirus peaks over the next several weeks.


So why aren't districts throwing in the towel now? There are two big reasons I've seen:

The most important is the concern that if schools officially announcing buildings are not reopening this year, students will stop doing assignments since many districts are not grading them anyway. Many teachers spend the first several weeks of a normal school year getting students acclimated to school again and taking five to six months off could be detrimental. I read an NPR article this morning that said after Hurricane Katrina, it took students almost two full years to fully recover their academic loss. This is especially important for districts who cannot implement full on-line learning. While all districts and schools are focused on providing some learning for their students, some are struggling with equitable delivery of content.

In the April 3, US DOE Ed Review Secretary DeVos was quoted as saying: "We also released additional information making clear the expectation that education will continue for all students. The transition to distance and online learning needs to happen quickly, and it needs to include meaningful instruction and supports for children with disabilities...Learning should not stop or be denied because schools fear federal regulators or fear doing something different...This national emergency gives us all the opportunity to come together to engage all students out of principle."

Some districts are leaning heavily on parents to find and deliver grade-appropriate materials from a posted list of "at-home learning" resources. However, our ongoing research confirms that the majority of schools and districts are attempting to provide a structured environment for their students, either through handouts, online assignments or activities.


The second reason some schools and districts aren't quite ready to call it quits is because of their graduating seniors. Many administrators understand tha walking across the graduation stage is a monumental event in the life of a student and they want to preserve that if they can find a way to both graduate the class as well as deliver the ceremony.
What's Next
Over the next few weeks, we'll continue to share thoughts and insight on what is happening for school facilities and curriculum plans, as well as the changes in the funding environment.
Be safe and well,
Lynn