March 21, 2022 | Lynn Schear
Understanding the K-12 District Sales Cycle: The what, why and when behind its importance
When it comes to seasonal sales cycles, good timing is key to effective district and school marketing. While many industries experience their own annual phases, not all sales cycles look the same or hold equal value. But for the education sector, being agile enough to sync your marketing initiatives to the K–12 district purchasing journey is the only sure way to position your efforts for optimum success.
In this upcoming three–part blog series, we talked with Daylene Long, CEO and founder of Catapult X, LLC – a market and product development company that consults exclusively with science and STEM education industry partners – to gain better insight into walking new marketers like yourself through the what, why and when of the school buying cycle. Leveraging her years of expertise, we'll cover the importance of tailoring your initiatives around key industry events, provide you with an in–depth guide to product and market development, and help you engage educators and influencers with the right information at the right place and right time in their decision–making process.
"In the education market, it is critical to understand what happens when. Because budget cycles in K–12 drive everything, it's important to know who's listening when and how many stakeholders need to be involved."
–– Daylene Long, CEO, Founder of Catapult X, LLC
But first, it's important to know how the differences between general K–12 education and STEM–specific programs affect the sales cycle.
Not a one–size–fits all approach: General influencers vs. STEM decision–makers
As previously mentioned, you can't understate the importance of timing in creating effective marketing efforts, but there are also multiple audiences to take into consideration for a successful campaign. Marketing in STEM differs from general education in many ways, but largely because science educators are typically strong influencers and decision–makers of STEM supplies.
To which you might ask, "What's the difference between general influencers and STEM decision–makers?"
In general, teachers know their standards and the curriculum they need to teach. They have a grasp on whether certain students need special accommodations and what resources the school provides to help meet them. Teachers know what technology they do (and wish they did) have access to, and whether it's worth the time, cost and effort to effectively use in the classroom. They also work daily with their students and hold parent–teacher conferences to learn about the social and emotional aspects that are conducive to safe and effective learning. Because of all these frontline, hands–on interactions, not to mention the work that goes on behind the scenes, teachers are great influencers within the sales buying cycle. They may not have the authority to sign the actual PO for school or district curriculum purchases, but they do have influential power education providers should consider through marketing and sales.
STEM educators, on the other hand, have that same influence, but they may also have decision–making power due to funds that are specifically allocated to STEM supplies at the building level. Some may only have modest budgets that start at as little as $200 per year, but others may have budgets that top $10,000 per year for various lab materials, cutting–edge technology, and other up–to–date resources. Because they're specialists in a topic of knowledge, they are often included in advisory councils and recurring budgets for the year versus general educators.
"Every district has goals as unique as the population they serve. We can't just take a one–size–fits–all approach. My strategy with clients is to partner with MCH to target the right titles for the right marketing strategy."
–– Daylene Long, CEO, Founder of Catapult X, LLC
So, when you're navigating the district sales cycle, know what audience your marketing efforts are targeting because it's important to include STEM educators in your major influencer personas.
Product development versus market research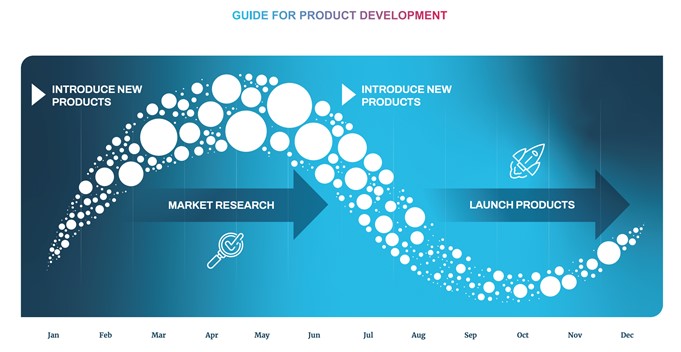 The simplest way to look at the sales cycle is to visualize the process as a reverse S curve that's broken into two main parts – product development and market research. Pragmatically, both can be done all year; however, timing these critical functions to where educators are in the buying cycle maximizes brand awareness and sales.
During product development, if you want feedback from educators and influencers, the best time to conduct focus groups and STEM Panels is from February through June. If you wait until July or fall time frame, then you're competing with summer break and the upcoming new school year, which means you won't get the same level of attention from educators who are away on vacation or busy gearing up for the upcoming semester. It's important to be respectful of educator time both outside the classroom as well as inside.
Because the back–to–school season is so busy for educators, it's important that the bulk of your market research take place from January through May. This time frame is also a critical sales and marketing time period because educators are making critical decisions about year–end money and new budgets for July. Getting in front of educators as often as possible through email, webinars, e–newsletters, workshops and other digital marketing tactics is paramount for brand awareness during the buying cycle. During August through December, when the other new wave of products is being introduced, that's when you should tailor your marketing efforts to be more thought leader–focused because districts leaders and superintendents are focused on setting big–picture goals. This is the time to focus your webinars, media relations, and content marketing on broadscale topics of education such as equity, social emotional learning, interrupted learning, and teacher retention.
Your timing and ability to target influencers are keys to effective education marketing and knowing what key events to attend – and when they happen – can play an even larger role in improving your sales cycle success.
Stay tuned for part 2 in our three–blog series, "Tailoring initiatives around key industry events."